The Apocalypse
in the Light of the Temple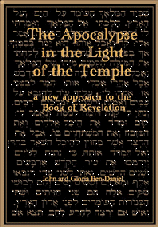 A New Approach to the Book of Revelation
Download it as a PDF file for free

Read the book in Google Book Search
See 3 reviews in 'Review of Biblical Literature'
See a review at www.CatholicBooksReview.org
What the scholars said:

"This book, which has a piercing originality about it, provides a fitting opportunity to enter more deeply into the mystery of the text"
Rev. Prof. Ugo Vanni, S.J., Gregorian University, Rome.

"no serious student of the Apocalypse will fail to learn from this meticulous reading of the Apocalypse in the light of the temple. The authors have convinced me that the temple is indeed the organizing principle of the final book of the New Testament. Any future conversation about the Apocalypse must include the voices of John and Gloria Ben-Daniel"
Rev. Prof. Dennis Hamm, S.J., Creighton University, Omaha, USA.

"The amount of work that has gone into this study is impressive…it contributes to our understanding of the background of the Temple imagery found in the Revelation"
Rev. Prof. Christopher Rowland, Queen's College, Oxford.

"This is an important and interesting contribution to the field of New Testament in general and, in particular, to the interpretation of the Book of Revelation. There are any number of books on the market that focus on the Book of Revelation but this volume drives in a different direction based on a hypothesis which has for the most part been overlooked"
Prof. Hemchand Gossai, Muhlenberg College, PA, USA.